With a passion for health and fitness, local entrepreneur and fitness aficionado Paul Wadsworth works hard to inspire others around the world to live healthier, happier and more fulfilling lives.
Paul also runs a related lifestyle brand aptly named IntraLifestyle that focuses on setting up a foundation for success in daily life.
At the time our team met Paul he was working with a select list of clients that he had built through word-of-mouth references. Seeing his client's success inspired Paul to build an

autom

ated online workout program so that he could share his passion with a larger audience. 
Very admirably and with no previous experience,

Paul built his own lead-generation website

 t

o attract 

registrants.
The current branding was not an accurate representation of our client or their professional offerings
How might we design a new digital voice that would help build trust and inspire visitors to register?
First look at IntraFitness
After our team met with Paul, we were really surprised that
he was very different from the way his

website

projected him
. Calm, hard-working and well-spoken, Paul was very kind and this really inspired our team to help him as best we could. 
To start the build of a solution, my UI design partner and I delved into the world of IntraFitness to get a feel of where the brand was at and
look for design elements that were in-line with the Paul we met

.
Consistently inconsistent
Looking through the website it was clear that
consistency needed to be improved

.
 The website contained a number of different fonts, colours and logos which distracted from the overall message and hindered the website's functionality.
It was immediately apparent that Paul was a product of his passion. The photos he shared were
enviable ambitions for most people

.
An intimidating narrative
The majority of social media posts followed a similar theme to the website's imagery and shared an 
intense, masculine and somewhat intimidating tone
.
Don't judge a book by its cover
After my deep dive, I thought that Paul's clients were mostly male and/or professional/semi-professional bodybuilders, but it turned out that Paul's 
client base was equally male/female
and most were
working out on a casual basis
. It also turned out that the online program Paul had built catered to people just starting to workout. 
There were a couple of images and messages I found that I thought were
a closer representation of Paul
.
Scoping out the competition
​​​​​​​
Our UX team members compiled a list of competitor and client-selected websites that I searched through to
find consistent industry themes
.
Each website had a
simple logo that helped build trust
since it was clean and easy to understand.
The logos by themselves did not try to signify any health-related themes. Instead, they focused on clarity.
Result:
I would need to
create a new logo that focused on clarity
 rather than representing fitness.
Most competitors had a
limited colour palette of 3 - 4 colours
. This helped create a consistent look to give the website a more professional look. It also contributed to usability so that components (eg. call-to-actions) were a consistent colour that caught the visitor's eye.
Result:
Along with a new logo, the brand's 
new primary colour palette would have a limited number of colours
.
There were
significantly more pictures of trainers fully-clothed versus shirtless
. They also typically opted for workout clothing. This made the trainers seem more approachable and relatable.
Result:
My UI partner and I would need to
find or create new imagery
that aligned with the brand and enhanced approachability.
Competitor websites paired client testimonials with
numerous pictures of the trainer with their clients
.
Result:
It would be impossible for my UI partner and I to create pictures with clients so we would need to 
create new imagery
that accomplished this.
The start of the transformation
Getting everyone on board
After taking Paul through our findings he was a little hesitant to go through a re-branding process. Luckily though, I had done a reverse image search of Paul's logo and it revealed that the
logo had been used by other brands too
.
​​​​​​After seeing this, Paul was ready for the re-brand and together with the team we all agreed on keywords that were ideal descriptors of the new brand. 
Trustworthy guide for your life goals
Blues were chosen as the primary colours 
since
it
is a colour associated with
trustworthiness, wisdom and freedom
 and also typically 
appeals to both sexes
. 
With the colours and tone in hand, I started designing the new logo.

I came up with a number of possibilities

and then tasked the rest of the team with selecting the best options to be shown to Paul for his consideration. 
Paul's final choice was ideal since there was 
a lot of symbolism behind the logo
.
With the logo finalized, I was able to build the style guide for the website,

making constant reference to the established logo

. 
Trade Gothic LT Std was chosen for headers because of its
bold and athletic appearance
. With its
clean and approachable look
, Open Sans was chosen for the body text.
Pictures worth a thousand words
With the branding finalized and ample time left before the project deadline, I

planned a photoshoot, printed the new logo onto t-shirts and packed a camera

 to take some pictures of Paul in his element.
Our fantastic UX counterparts were very much on schedule and this allowed my UI partner and I ample time to paint their mid-fidelity files and animate them.
Highlighting The Client Experience
In alignment with my research findings, I wanted to showcase to visitors what working with Paul would be like. I thought
pairing the website's call-to-action sections with the client photos
was an ideal combination that could catch eyes and encourage trial sign-ups.
Bringing the screens to life
Tools for increasing leads
The blogs help to draw a visitor further into the world of IntraFitness and it is an ideal opportunity to prompt the visitor to share their contact details in exchange for a useful resource.
A key recommendation to Paul was to use a chatbot to automate tasks like data collection, visitor interaction and question answering. A chat bot could
help increase the leads generation and contribute to a reduction in drop-offs
.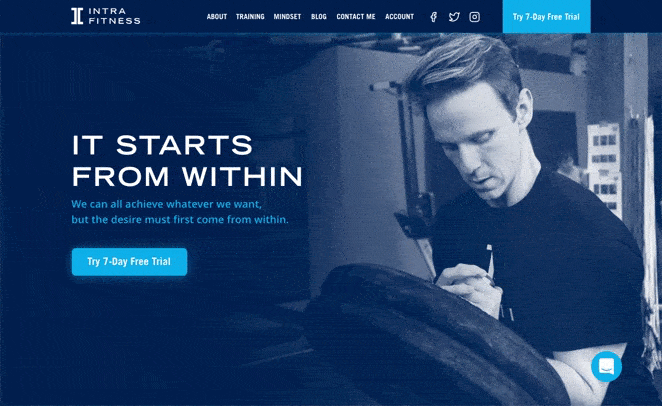 Formatted for all screens
The final deliverable for this project was showcasing the website on mobile. Thankfully, the
12-grid structure of the desktop version made it easy
to arrange elements to fit on all screens.
After our presentation, Paul was ecstatic and absolutely loved the new website and brand we had designed for him. 
Our team's design was also chosen to be 
developed by the App Development students
. As a result, I also prepared all the hand-off materials and answered any questions developers had about the design or functionality of the app.
"Incredible. Just incredible. Thank you so much. I can see why you wanted to work on a new brand and I love the way it turned out. Could you please send me all the photos as soon as possible?"
Feedback on the design? Want to chat over coffee about building a brand or responsive website from scratch? Feel free to
get in touch
 or
schedule a chat
.